Sinking Star Clipper - Why the loss of the best comic book store in St. Louis matters.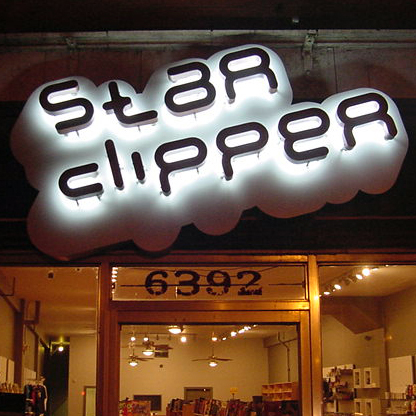 I love comic books. I've loved them my whole life. I got my first comic books from my uncle's pharmacy in the St. Louis suburb Creve Coeur as a little kid and then bought them off the magazine rack at Dierberg's grocery store until I was thirteen. I have thousands of comic books boxed up in my basement. Over the years I've shopped at local comic book shops dedicated to putting new issues in my hands every week. Star Clipper, my favorite comic book store (located in University City's popular neighborhood the Loop) has just announced it will be shutting its doors shortly. Stores go out of business all the time, so this may not seem like a tragic loss to some people. But if you are a fan of comics and have ever shopped at Star Clipper you share my pain. The store has been a cultural institution in St. Louis since it opened in 1988, when I first became a customer. They have made comics accessible to audiences by being welcoming, informative, enthusiastic and by demonstrating a genuine love of sequential art. The closing of Star Clipper is monumental and is a sad loss for comic book lovers.
What's so great about comics? That question used to be asked all the time. That was before superhero movies became so popular. Before Robert Downey Jr. overcame personal problems and became the iconic embodiment of Iron Man in several Marvel films. Before Joss Whedon went from being a pop culture hero to people who liked the television series Buffy the Vampire Slayer to directing the Avengers movies. Before Sheldon, Leonard and Raj used to go to the comic store every Wednesday on the Big Bang Theory. Before film and television seemed to option and produce movies and shows for every comic book under the sun, from The Walking Dead to Agents of S.H.I.E.L.D to iZombie. Comics were always cool even when they weren't being adapted to the large or small screen. They were cool before Hollywood found a way to make a profit from them, but today more than any time ever the average person has a general familiarity with comic books.
These days, in part thanks to the plethora of comic book-related films and television shows, we all know why comic books are cool. There are timeless characters, engaging stories, eye-popping artwork. Comic book enthusiasts are zealous about these things, as well being fans of the writers, artists and publishers of their favorite comics. I was so passionate about comics that I did my undergraduate senior project in anthropology at Antioch College on the X-Men, examining themes of bigotry and respecting diversity. That allowed me to be both a fan of comic books and someone with an intellectual interest in the history of the comic book industry. I've always felt that one of the pillars of reading comic books is the local retail shop. I know there are digital reading options available these days, but most customers get their comics from direct market retailers. In every place I've lived I have fond memories of my local comic shop. While at Antioch College there was Dark Star in Yellow Springs, Ohio. When I lived in San Francisco in the 90's there was Comix Experience on Divisadero. And during my ten years in Los Angeles there was Meltdown Comics on Sunset. But the one place that I have always held closest to my heart has been Star Clipper. I've always wondered why one of the most underappreciated and least examined parts of the comic book consumer's experience is the local comic store.
The one example I can think of is Kevin Smith's Comic Book Men television series on AMC. The show captures an overall sense of comic store culture but also plays to cringe-worthy stereotypes that could be alienating to some people. Case in point, the episode where the staff argues around a woman dressed as "Aquawoman" debating whether or not cosplay violates copyright laws or the bastardizes the purity of a beloved character. It makes my brain hurt. I enjoy hearing fans debate but I don't appreciate stores that alienate their customers. For every good store there are scores of places to buy comics that are filled with argumentative, know-it-all, condescending, misogynistic and homophobic staff. Is this the best kind of representation of comic shops out there? Of course it isn't. The best comic stores offer a sense of community and camaraderie, they have all of your favorite books, and they make you feel welcome. And that's what makes Star Clipper so special.
Star Clipper has played an essential role as a direct market retailer because they are welcoming; they offer a space for sharing one's love of comics. Because the store and their staff are so good they also play an important role as curators, trendsetters and tastemakers. They don't push comics on you just to make a sale, but they always offer honest suggestions. This is actually counterintuitive when it comes to the business of selling funny books. Did you know that all comic book retailers have to buy their books from one distributor? Diamond. They have to buy their books three months ahead of time, guessing how many they will or won't sell when those comics hit the stands. And guess what? You can't return what you don't sell. That's it. Choke on those extra copies. Diamond won't take them back. That stacks the deck against the direct market sales shops. In addition, the comic book industry has experienced a rollercoaster ride of changes. The price of comics has increased faster than inflation. Today comic shops are closing at a faster rate than new stores are opening. The fact that Marvel and DC have been purchased by supersized transnational corporate entities has an impact as well. Don't get me wrong. I am thrilled to see so many interpretations of my favorite comics on the large and small screen. As a kid I remember thinking the Bill Bixby/Lou Ferrigno version of the Hulk was the best thing ever. I never imagined the Hulk smashing his way through the Avengers movie. As a fan of comics I feel blessed with so many options beyond the printed page, but I also appreciate comics on their own. Comics have value whether or not they become translated to film and television. I hope we aren't transitioning to a world where comics and comic book stores are just incubators for the development of Hollywood properties. But that does seem to be the trend. Despite the fact that the fan base has expanded with the many film and television adaptations of comics, the increase in comic book readers has been underwhelming. It's no wonder Star Clipper would decide to shut their doors during such economically uncertain times. Which is a shame because they have been a part of my life since they first opened their doors 27 years ago.
Star Clipper opened in 1988 and I have been a customer since the beginning. I was finishing high school when the store opened. It was on North & South between Delmar and Gannon Avenue (today that same spot is the delicious vegan joint Frida's Deli). It was half a block from my family's house on Gannon. It's the same house where I live now. It's the house that has been in my family for generations since the 1940's. My great-grandmother, grandparents, great aunt and uncle, parents, brother and I have all lived here at one time or another. I have two favorite memories of this neighborhood from my youth. One is when I was a little kid and my grandmother would walk down the street with me to Velvet Freeze for an ice cream treat (today it's Momo's Greek Tavern on North & South). The other memory is the day my younger brother Loren and I walked through the doors of a brand new comic book store called Star Clipper, just half a block from our house. Every new comic day (Wednesdays for the uninitiated of those of you who don't watch Big Bang theory) was like a birthday present. Sometimes I would just stop by to talk about comics with the original owner, Carol Denbow. She didn't just push superhero comics on her customers but offered suggestions that opened doors to new stories and titles. As an adolescent I was, like most kids, obsessed with superhero comics. But Star Clipper was there to gently suggest new titles for me to explore, allowing me to develop a more sophisticated love of comics not bound by the DC/Marvel superhero trends that were so popular then.
It was there that I discovered The Sandman (and my enduring appreciation for Neil Gaiman), Hellblazer (now the popular NBC show Constantine), and Lone Wolf & Cub (I still own those square-bound issues with the Frank Miller covers). I also found new kinds of narratives in the independent comics that were recommended to me. Even when I was in college, returning home infrequently, it was Star Clipper where I discovered new titles like Bone and Strangers in Paradise before they became popular. Star Clipper was the place where I first learned about a crazy, unexpected, earth-shattering story by Art Spiegelman, called Maus. Imagine being a Jewish kid from an orthodox family in University City, suddenly discovering a graphic novel that connected the Holocaust through sequential art with a real sense of Jewishness. Then imagine my brain exploding. Which, if you love comics, I'm sure you can picture panel to panel: Mind Blown! I also learned about The Comics Journal at Star Clipper, a publication that offered critical analysis of comic books and interviews with creators. This influenced my belief that comic books were worthy of academic interest, which led me from being a fan to doing a content analysis of the X-Men to earn my college degree. I've always appreciated the store in all its locations. I've been a customer so long I remember when they moved to Delmar and Old Bonhomme, before they moved to the Big Bend location and before they finally landed at their current location in the Loop. My point here is that Star Clipper has been important in the development of my taste in comics for a long time.
When I returned from Los Angeles to St. Louis at the end of 2008 I visited the Loop location of Star Clipper on Delmar for the first time. While the store had grown and changed (more collectibles and a robust offering of graphic novels) it stayed true to the store I remembered. That's where I met of the current owners, A.J. Trujillo. Although she always seemed to be in constant motion around the store, always busy, she took the time to introduce herself to me. We chatted and soon learned that she and her husband lived near me. After that every time I saw her she would endearingly greet me, "Hey, neighborino!" That always made me smile. But it wasn't just her. The staff was dedicated, enthusiastic and helpful.
These were all people who loved comics and encouraged my love of comics without pandering or trying to sell something just to make a buck. Jim, Jon, Steenz, Fleet, Lucas, Ari and others were always there to offer suggestions. Just like the old days they turned me on to comic books I might have missed without their guidance. The staff introduced me to local comic book professionals like Cullen Bunn and Matt Kindt. They have never let me down. Through all my years as a fan of comics and as a customer at comic book stores around the country I think that the Star Clipper staff is special and unique. I have never experienced such an all-star collection of employees like the people I've grown to appreciate at the store. It's not just that they love comics and are good at their job. These are folks who are well informed, patient and friendly. The staff is never condescending and always welcoming. On the one hand, they are willing to engage in the typical fanboy banter like "who do you think would win in a fight, Porky Pig or Spider-Ham?" On the other, they can offer great conversation about almost any topic related to comic books and popular culture. The store has been a mecca for people who love comics staffed by a collection of smart, passionate and creative people unlike anywhere else.
The store was so good, for so many years in its different incarnations. That's what's so sad about the closure of Star Clipper. The loss of the store and departure of its staff is devastating for comic book fans everywhere. Sure, I could find a new shop in town. But why would I want to? Instead there's a part of me that, like a true comic fan, hopes that Star Clipper isn't gone for good. Your favorite character might die, but they always come back from the dead. That's how it works in comics, why can't it work like that for my favorite comic store? That's my dream for Star Clipper. That it will find a way to rise from the ashes, bring back their amazing staff and stay awesome. It's not too much to hope for, right?